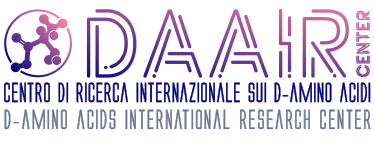 Recent Market Research Reports state the demand within the global D-amino acid market is projected to increase in the future: a 5.2% increase is expected over the forecast period 2018-2026. Asia-Pacific region dominates the global D-amino acids market. For more info:
https://downeymagazine.com/2019/11/18/global-d-amino-acids-market-2019-huge-market-growth-till-2025-sekisui-medical-shijiazhuang-haitian-amino-acid-zhangjiagang-huachang-pharmaceutical-etc/69555/
https://dentonchronicle.com/2019/11/27/global-d-amino-acids-market-would-expand-at-a-moderate-cagr-of-5-2-over-the-forecast-period-2018-and-2026/
https://marketinsights24.com/top-global-news/d-amino-acids-market-research-report-2019-2025/
---
We are pleased to announce that prof. Alessandro Usiello has been elected as member of the Governing Board of SINS, Italian Society of NeuroSciences (http://www.sins.it/EN/index.xhtml) for the area "COGNITION AND BEHAVIOUR".
---
We are thrilled that the first research paper of DAAIR center has been accepted for publication!
---
Selective demethylation of two CpG sites causes postnatal activation of the Dao gene and consequent removal of D-serine within the mouse cerebellum. Clin Epigenetics. 2019 Oct 28;11(1):149. doi: 10.1186/s13148-019-0732-z.
The collaboration between various Italian groups, focused on the epigenetic modifications during the perinatal period in the genes regulating brain levels of D-serine and D-aspartate. A consistent spatiotemporal modifications occurring at the D-amino acid oxidase (DAAO) gene during neonatal development in the cerebellum and within astrocytes was reported. In details, the dynamic demethylation at two specific CpG sites (downstream of the transcription start site) was sufficient to strongly activate the DAAO coding gene, thus promoting the complete physiological degradation of cerebellar D-serine a few days after mouse birth. MORE
---
The NMDA receptor activation by D-serine and glycine is controlled by an astrocytic Phgdh-dependent serine shuttle – Proc Natl Acad Sci U S A. 2019 Oct 8;116(41):20736-20742. doi: 10.1073/pnas.1909458116.
Herman Wolosker' group reported that inhibition of 3-phosphoglycerate dehydrogenase (PHGDH) blocks synthesis of L- and D-serine and reduced the NMDAR synaptic potentials and LTP at the SC-CA1 synapse. This work states that neurons are the predominant source of the newly synthesized D-serine and that synaptic NMDAR activation in adult serine racemase-knockout mice requires glycine generated by the PHGDH pathway. Notably, the work demonstrates that glycine regulates D-serine metabolism in two ways: a) by tonic inhibition of SR by intracellular glycine; b) by transient D-serine release induced by glycine through the Asc-1 transporter. This brought to the definition of a "PHGDH-dependent shuttle mechanism". MORE
---
Dual role of D-amino acid oxidase in experimental pain models – Eur. J. Pharmacology (2019) 855:98-102
D-Amino acid oxidase (DAAO) is related to pain sensing. This updated review by Sharma et al. reports the present knowledge about the positive (DAAO has been proposed to attenuate pain when exogenously administered) and negative effects of D-amino acid oxidase in pain (DAAO is upregulated in different pain models and contribute to pain by increasing production of hydrogen peroxide, pro-inflammatory cytokines and activation of TRPA-channels). MORE
---
pLG72 levels increase in early phase of Alzheimer's disease but decrease in late phase – Sci Rep. 2019 Sep 13;9(1):13221. doi: 10.1038/s41598-019-49522-1.
pLG72 is the better known physiological partner of human D-amino acid oxidase (DAAO), the enzyme that affects the function of N-methyl-D-aspartate receptors (NMDAR) acting on D-serine degradation. In this work, 376 individuals (healthy elderly, amnestic mild cognitive impairment, mild Alzheimer's disease, moderate AD, and severe AD) were studied investigating the pLG72 levels in plasma. pLG72 levels increased in the mild cognitive impairment and mild AD groups when compared to the healthy group: pLG72 levels in the moderate and severe AD groups were lower than those in the mild AD group. Also the D-serine level and D-/total serine ratio were different among the five groups, and the levels of L-serine correlated with the pLG72 levels. The authors suggest an NMDAR hypofunction in early-phase dementia and NMDAR hyperfunction in late-phase dementia. MORE
---
The Role of N-Methyl-D-Aspartate Receptor Neurotransmission and Precision Medicine in Behavioral and Psychological Symptoms of Dementia – Front Pharmacol. 2019 May 22;10:540. doi: 10.3389/fphar.2019.00540.
This review reports on dementia and the associated behavioral and psychological symptoms of dementia (BPSD) during aging. Dysfunction of the N-methyl-D-aspartate receptor (NMDAR)-related neurotransmission leads to cognitive impairment and behavioral changes, both of which are core symptoms of BPSD. The alteration in NMDAR functioning (enhancement or attenuation) may depend on the phases of dementia. This review states the relevance to develop biomarkers indicating the activity of NMDAR, particularly in BPSD and underlines that gender difference exists in the treatment of dementia. MORE
The D-amino acids International Research Center "DAAIR" has been established in Gerenzano (Varese, Italy) in 2019 with the aim to support and perform scientific research projects and activities on the field of D-amino acids (Director Loredano Pollegioni). The Center, located inside the Fondazione Istituto Insubrico Ricerca per la Vita, is aimed to represent a pole of excellence at international level for dissemination and research involving the D-amino acids.
The guiding principle is support the research projects aimed to investigate the involvement of D-amino acids in main physiological processes, from bacteria to humans. The ultimate goal is to actively participate to the elucidation of the mechanisms by which the D-amino acids perform specific functions, and to identify their presence and concentration in different organisms and compartments, also with regards to well-established functional states, with particular emphasis to pathological states. Understand the involvement of D-amino acids in important diseases as a way to set up novel therapeutic strategies.
Contacts: info@d-aminoacids.com;
director@d-aminoacids.com;
www.d-aminoacids.com
Copyright © 2019 IDAAR CENTER NEWSLETTER, all rights reserved.
mailing address: info@d-aminoacids.com